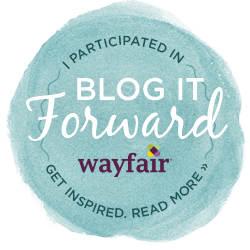 Last week I was contacted by Wayfair UK, who asked if I would join in their new #BlogItForward charity project. During the month of December they raised over £2600 and this month they want to do even better. Here's how it works:
 Spread positive cheer by doing a good deed, no matter how big or small. Share your good deeds with Wayfair, then challenge two of your favourite blogs to do the same.  For every #BlogItForward act of kindness they find before January 31st, they'll donate £50 to Habitat for Humanity, an organization that helps the poorest and most vulnerable people lift themselves out of poverty by partnering with them to build their homes and communities. You can find out more about this project by clicking the Wayfair badge above.
Well, having read this, along with so many brilliants posts from other bloggers who have already risen to the challenge, I just had to take part.  Me being me though…
It had to rhyme….
x
The one greatest singular thing that I've done,
Without hesitation's: "Becoming a Mum"
I've handled "The Thirties" and I'm thrilled to be "Wife"
But I cannot describe how much "Kids" changed my life.
And don't get me wrong I'm eternally blessed,
With the love, pride and magic and all of the rest.
But actually *whispers*…I found it quite tough.
And sometimes I felt a bit "not good enough?"
I'd instantly gone from a successful job,
To sitting at home, feeling, well, like a slob?
The job satisfaction I'd had for so long…?
My get up and go had just got up and gone.
I was fiercely in love with my gorgeous new tot,
But all she could offer was poo, sick and snot.
And it felt so ungrateful to whinge and to moan.
I loved being "Mum", but I felt quite alone.
Then finally, sick of my own four beige walls.
I plucked up the courage and strapped on some b*lls!
A great Childrens' Centre was just down the street,
So I ventured inside with no clue who I'd meet…
….And inside were Mums!
……Drinking coffee and tea!
Not scary at all, they were all just like me!
We'd share all our stories, our worries and cares.
Our jubilant wins and our parenting scares.
There were people to talk to when things were amiss.
To share my concerns like "Does your one do this??"
From there came the play dates, to paint, or to bake.
There'd always be coffee, perhaps even cake!?
It strikes me the main thing we need as a mother,
Is the strength and support that we get from each other
So for my act of kindness, I'm giving my time.
To meet other mums with their tots, just like mine.
I've started a course as we launch this new year,
To signed myself up as a new volunteer.
To be there at the Centre and offer a smile,
And hopefully help someone, once in a while.
To offer support as we drink tepid tea.
And be there for that mum feeling lost just like me.
And I'll happily share all my rookie mistakes.
(But I really can't promise to share many cakes.) ;0)
x
I would now like to nominate the following two fabulous bloggers to take part too:
The lovely Gemma at Colley's Wobbles
Gemma is a mum after my own heart and her blog is wonderful to read when you just want a good old giggle written by a fantastic mum, who is keeping it real in the best possible way.  She is also one of the only people on the planet with whom I have actually shared (yes shared – as in let someone have some) cake.
The wonderful Mrs Lighty at Sugar and Spice and All Things Spliced
Mrs Lighty writes beautiful posts about the adventures of the Lighty Family, featuring their very cute baby boy.  I haven't had the pleasure of meeting her in real life, but would be thrilled to do so if we ever get the opportunity.  This is honestly not entirely down to the fact that she doesn't eat cake. (More for me ha!)
Thank you to Wayfair UK for the opportunity to make January a little bit kinder.
Dawn
x
Linking up with…